Our Minister
Rev. Matthew Heesing

Matthew Heesing is filled with joy to join St. Andrew's United Church (SAUC) on their journey of faith. For as long as he can remember, he has been actively involved in the United Church of Canada, and brings with him a surprising array of experience and education: from joining his local church Board as a young teenager, to serving as a United Church General Council Commissioner, to living in Bogota, Colombia as a United Church Overseas Mission Personnel, and completing a Masters of Arts in Theology and Religious Studies from St. Mary's in Halifax.
Matthew's passions for ministry include preaching and teaching, leading contemplative services in the style of Taizé, pointing out connections between popular culture and the Divine, and accompanying people through the most ordinary and profound moments of their lives.
Matthew lives in Cochrane with his spouse Marlee and two kids.
Angele Tremblay – Office Administrator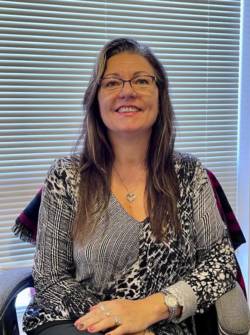 Angèle Tremblay, our new Office Administrator, is a supportive team player who brings a wealth of strong leadership, office administrative experiences and excellent interpersonal skills. She is fluently French bilingual, has a keen interest in working to cultivate a harmonious work environment.
When Angèle is not at work, she loves to spend time with her family. Staying active and a healthy living lifestyle is a high priority in her life.
Church Musician: Donna Willson
Donna comes to us with a love of piano and choral repertoire. She has worked as a Music teacher for both the Rocky View School District and The Calgary Board of Education. In addition, she has served as accompanist / Music Director with several United Churches in the Calgary area over the past thirty years. Donna has a Bachelor of Arts degree (Psychology, Music) and a Bachelor of Education degree from The University of Saskatchewan. She holds a Grade Ten Piano certificate from The Royal Conservatory of Music, Toronto.
Being a Church Musician has always been her greatest joy. After experiencing the warm outreach and spiritual gifts of St. Andrew's United, Cochrane, she accepted the invitation to work with this congregation by participating in the Music Ministry.
Donna has a special interest in expressive, improvised arrangements of keyboard scores. Her choral involvement includes 18 years with Revv52, singing with Kantorei at MRU and several other groups. She considers working with choirs as a creative and wonderful privilege!
Donna lives on an acreage in Springbank with her husband, Jim. They have two adult children living nearby. When not making music at her piano, she can be found planting flowers, playing with their young Border Collie, or dreaming up the next culinary arts creation.