SAUCIE
(St. Andrew's United Church Instrumental Ensemble)
Musicians:
Gail Tambay (clarinet), Debbie Nielsen (flute), Steve Clement (trombone), Carole Clement (clarinet).
Wow! SAUCIE came together at St. Andrew's in 2001! We have played a lot of music since then, and had a lot of fun. We do enjoy playing music together, and our weekly rehearsals are held year-round once per week. Our music repertoire includes Sacred, Classical, Christmas, and Golden Oldies, and was expanded in recent years to include "Middlies" (not quite Oldies, but not quite modern, just somewhere in the middle), all totaling well over four hundred pieces which we've played at one time or another.
We love to play and help add some fun and/or music ministry to events. Here are some of the events in which we have participated in recent years:
– numerous Sunday worship services, assisting with our music ministry.
– performances are generally in Cochrane at the Big Hill Lodge, Bethany Care Centre, Hawthorne/Optima Living, and Grande Avenue Village.
– entertainment for the Rebekah Lodge in Cochrane,
and the Calgary Christian Women's Club luncheon.
– our Turkey Supper, and Advent Festival.
– an Evening of Music with Martin Russell and Friends in early December; this is always a particularly enjoyable evening, being around so much musical talent from our congregation.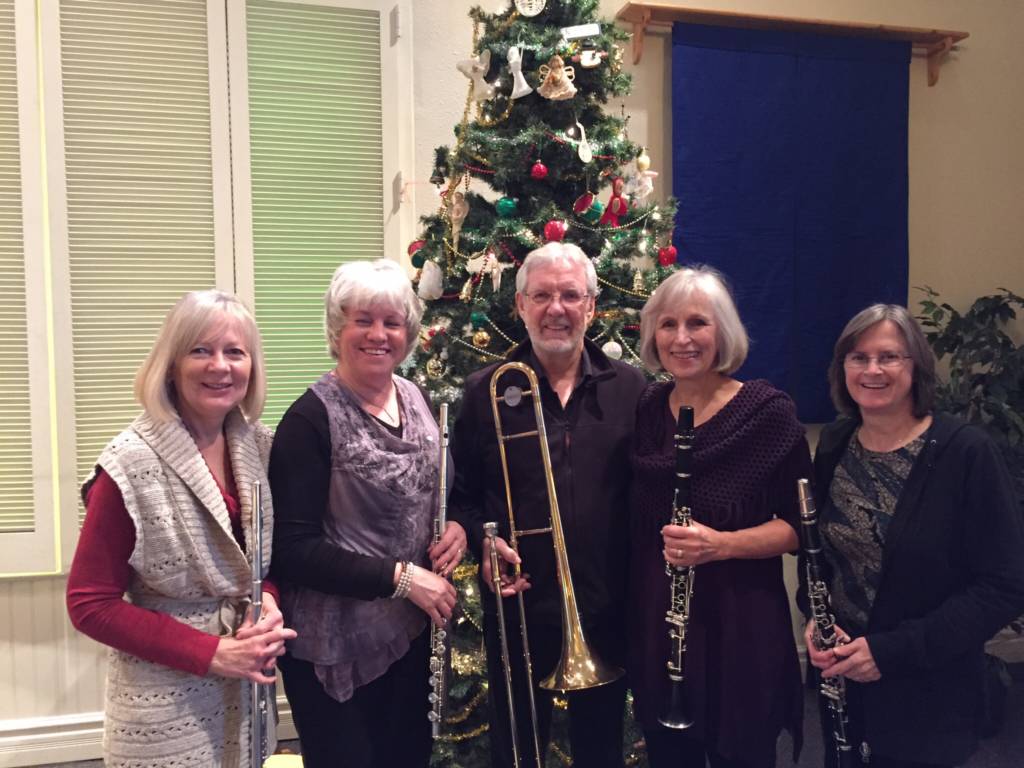 If you'd like an opportunity to play your wind instrument in a small wind ensemble here at St. Andrew's, talk to us. You do need to competently play your wind instrument at a Grade 3 Level or above, as we have a lot of music to deal with, and much of the time you'll play a solo part.
It has been our distinct pleasure to perform with this group of musicians – we sincerely thank them for their enthusiasm, energy, and friendship. And we are so appreciative of the support of our St. Andrew's family, and of the opportunity to play for you.
Steve Clement Carole Clement
Director "The Lone Arranger"